Caitlyn Jenner Poses With Hillary Clinton and Says She's #WillingToListen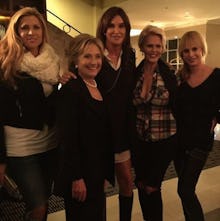 Caitlyn Jenner returned again to newsfeeds around the country this week, after posting a photo with Democratic presidential frontrunner, Hillary Clinton to Instagram on Tuesday. 
Standing with fellow trans actresses Zackary Drucker and Candis Cayne, the former Olympic champion and star of the reality show I Am Cait, gave no explaining of how the photo came to be only writing #LearningFromMyGirls #WillingToListen.
The image is a step back from comments Jenner recently made on her show about the former Secretary of State, where she said, "I would never, ever, ever vote for Hillary. We're done, if Hillary becomes president, the country is over." Jenner also called Clinton a "fucking liar" and "political hack."
It's not the first time Jenner has waded into the territory of highly unpopular opinions. On March 2, she told the Advocate that she'd be happy to see Sen. Ted Cruz in the Oval Office, and that she could serve as a trans ambassador of sorts to the conservative Republican. 
But such a role under a Cruz presidency seems unlikely. In November, Cruz railed against the concept of allowing trans people into locker rooms that align with their gender identities, calling the idea "lunacy." Earlier this week, View co-host Joy Behar said Jenner's support for Cruz was like a Jew backing Hitler.
In an appearance on The Ellen DeGeneres Show last September, Jenner seemed to be on the fence about same-sex marriage saying "I'm a traditionalist. ... I kinda like tradition and it's always been a man and a woman," Entertainment Weekly reported.   
With low ratings fueling rumors that her reality show faces cancellation, it's unclear what's next for the unpredictable star.