NYC St. Patrick's Day Parade 2016 Start Time, Route, Map and More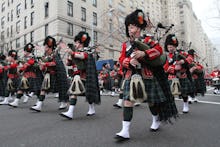 St. Patrick's Day typically invites no shortage of revelry, part of which, for New Yorkers, includes the annual parade. Beginning at 11 a.m. EDT and continuing until roughly 4:30 p.m., a sea of green-clad parade goers will march through Manhattan, beginning at Fifth Avenue and 44th Street and ending at Fifth Avenue and 79th Street. NBC will broadcast a portion of the parade, which dates back to 1762 and which may or may not include bagpipes. Watch NBC's broadcast online here. 
Read more: 5 St. Patrick's Day 2016 Facts You Can Impress Your Friends With
This year's grand marshall will be Maine's own George J. Mitchell. "Senator George Mitchell is the primary architect of the 1996 "Mitchell Principles" on conflict resolution and he was the main investigator in two 'Mitchell Reports,' one on the Arab-Israeli conflict in 2001 and one on the use of performance-enhancing drugs in Major League baseball in 2007, reads a statement from event organizers, which lists Mitchell's many accomplishments.
According to the parade's official Instagram account, the route is cleared and ready for paraders.