St. Patrick's Day Parade 2016 Live Stream: How to Watch NYC Event Without the Crowds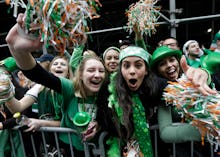 New York City will look a whole lot greener on Thursday afternoon, as millions of people celebrate St. Patrick's Day at the annual St. Patrick's Day Parade, which runs along Fifth Avenue in Manhattan. Though the day can prove exhausting for the typical New Yorker as they attempt to commute amongst the revelers, the St. Patrick's Day Parade will also be live streamed for everyone who wishes to see the festivities without sharing a sidewalk with hundreds of people. 
This year, the St. Patrick's Day Parade will begin on Fifth Avenue at the intersection of 44th Street at 11 a.m. and conclude at Fifth Avenue and 79th Street around 4:30 p.m. New York's local NBC channel will broadcast only parts of the parade on air, beginning at 11 a.m., but the news station has also prepared a live stream of the event for anyone hoping to check in on the madness throughout the day.
Read more: Who Was St. Patrick and Why Do the Irish Celebrate St. Patrick's Day?
What makes the St. Patrick's Day Parade unique is that there are never any floats, balloons or vehicles to obstruct anybody's view: It's simply been a parade full of marching bands and cheer since 1762, according to Marching.com. The event draws in nearly two million people each year to New York City to watch the event go down Fifth Avenue. 
However, live streaming the event offers a comfortable way of watching while avoiding the crowds. Check it out here.