Nike's HyperAdapt 1.0, Self-Lacing Shoes From 'Back to the Future II,' Are Finally Here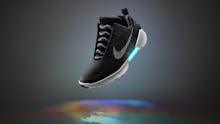 Back to the Future II's futuristic vision of 2015 didn't pan out like we all hoped. We don't have flying cars, and our hoverboards are really just exploding Segways with no handles. But at least we're going to get our self-lacing kicks.
Nike is releasing a line of shoes that lace themselves automatically — mechanical whirring sound included — when you step into them and your heel hits a sensor in the back. The new shoes, called the HyperAdapt 1.0, will be ready for the 2016 holiday season.
The shoes are based on a novelty project released in time for "Back to the Future Day" in 2015 — the Nike MAG shoe the company made for Michael J. Fox.
Nike created an original shoe that used the creative tech that shoe designers Tinker Hatfield and Tiffany Beers did for the MAG, and the HyperAdapt was born.
The shoes will have buttons on the side for perfecting the mechanical fit, but Nike hopes that one day the shoe will be filled with sensors so that they adapt the fit in real time to create "an automated, nearly symbiotic relationship between the foot and shoe."
Whether these will be the Ultra Boosts of 2017, or be relegated to the back of history's closet like those blinking, light-up soles from LA Gear, is yet to be seen.
Check out the 25-second video below and marvel at the mixed metaphor: The shoes have a beating heart, but then they lock in like a robot.