Tuna Recall 2016: Full List of Products Recalled From Bumble Bee Foods, LLC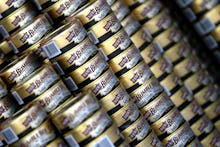 Bumble Bee Foods is voluntarily recalling cans of its Chunk Light tuna after it said there were deviations from standards during a sterilization process — which could result in life-threatening illness if eaten, according to the company's announcement made on its website Thursday morning. The recall includes only three UPC codes and 31,579 cases of tuna.
"Bumble Bee Foods, LLC, announced today that it is voluntarily recalling three specific UPC codes of canned Chunk Light tuna due to process deviations that occurred in a co-pack facility not owned or operated by Bumble Bee," the company wrote in its announcement. "These deviations were part of the commercial sterilization process and could result in contamination by spoilage organisms or pathogens, which could lead to life-threatening illness if consumed. It is important to note that there have been no reports of illness associated with these products to date. No other production codes or products are affected by this recall."
Read more: Corona Recall 2016: How to Tell If Your Beers Are Affected by Glass Contamination
The tuna cases being recalled by Bumble Bee includes 5-ounce Bumble Bee Chunk Light Tuna in Water with the label UPC 8660000020; the 5-ounce Bumble Bee Chunk Light Tuna in Oil with the label UPC 8660000021; and the four-pack of 5-ounce Bumble Bee Chunk Light Tuna in Water with the label UPC 8660000736. The best-by dates for these cases range from Feb. 9, 2019, to Feb. 29, 2019. Individual can code information for the specific cases being recalled can be found here.
The company said the cases were distributed nationally. You can check to see if you've purchased one of these recalled cases of tuna simply by looking at the can code on the top. If it starts with the letter "T," as in "TOA2BSCAFB" for example, then it may be part of the recall.
It may be time to start spring cleaning on the pantry a bit earlier than you originally planned.