Wiley New Album 2016: Release Date, Info and More for 'Godfather'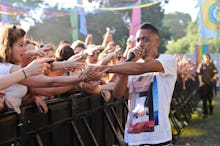 U.K.-bred producer and grime MC Richard "Wiley" Cowie has confirmed the release of his ninth studio album, Godfather. In a tweet, the artist announced the LP will be released on Sep. 2 and will boast 16 tracks, three of which will be released in the lead up to Godfather's debut. The upcoming LP trails Wiley's 2014 studio album Snakes & Ladders, and though the artist has yet to release details regarding the upcoming album's track list, in an exchange on Twitter, he thanked U.K. rapper Stormzy for his contributions, saying, "Because of you bro. You have made it possible. Thank you for putting in the work."
Read more: Missy Elliott and Queen Latifah Discuss the One Thing That's Missing From Hip-hop
News of the upcoming release piqued excitement and anticipation among fans of the rapper. 
Wiley's first album under his current stage name debuted in 2004, an effort titled Treddin' on Thin Ice. The rapper followed up that release with Playtime Is Over (2007), See Clear Now (2008), Race Against Time (2009), 100% Publishing (2011), Evolve or Be Extinct (2012), The Ascent (2013) and 2014's LP. 
Back in 2005, Wiley spoke to Pitchfork during an interview that unfurled outside New York City's infamous club, the Knitting Factory, hitting on his attempt to make a name for himself on international stages and touching on what he saw as a focus among London musicians to break into the American music scene. 
"We want you to do it as well, for American producers to lock on to the situation," Wiley told Pitchfork at the time. "Everywhere we go, we meet producers all the time, and they give us beats. That's a different thing, and that's what we want."
Stay tuned for more news to surface regarding the rapper's upcoming LP — audiences on either side of the pond are eager. For newcomers to the powerhouse act, here's the video for "Can you Hear Me (Ayayaya)," which doubles as a dynamite primer and good fodder to fuel the hype.