This Video Starring Olivia Wilde as a Person With Down Syndrome Is Being Called Ableist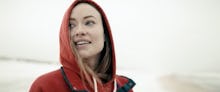 March 21 is World Down Syndrome Day, and to raise awareness and start a dialogue, CoorDown, an Italian organization for people with Down syndrome, released a video starring actress Olivia Wilde as a young woman with Down syndrome.
Read more: A Dad Took Stunning Photos of His Son With Down Syndrome to Show His Strength Has No Limit
In the video, a voiceover describes how one young woman with Down syndrome sees herself: as a daughter, a sister, a best friend and a person who follows her dreams.
Wilde plays the narrator laughing, crying, singing karaoke with friends and camping with her family. The video is narrated by Anna Rose Rubright, a young person with Down syndrome, who doesn't appear until the end, looking out at the viewer and asking, "This is how I see myself. How do you see me?"
The video is part of CoorDown's #HowDoYouSeeMe campaign, and viewers have been tweeting out their reactions.
Some shared support:
But many criticized the video and the #HowDoYouSeeMe campaign for what some called an ableist message that erases Down syndrome as an identity: