Trevor Noah Makes Tasteless Flint Water Crisis Joke on 'Daily Show,' Pisses Everyone Off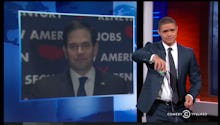 While Trevor Noah is, understandably, still on a learning curve since taking over The Daily Show in September, he's not going to be gaining any support with tasteless jokes about the water crisis in Flint, Michigan. In a segment on the results from the latest Super Tuesday, Noah combed through the evening's highlights, which included Florida Sen. Marco Rubio dropping out of the race.
In a tongue-in-cheek moment regarding Rubio's water-drinking difficulties, Noah decided to pay his respects for the fallen candidate by pouring out three mini water bottles (he is "little Marco" after all) in succession. Sadly, the host capped off the bit with a slight to Flint. 
"Don't worry, Flint, Michigan, we're not wasting the water," Noah said, and showed an off-screen bucket below him where he was pouring the water out, which drew an uncomfortable response of groans from the audience — and very few laughs.
You can check out Noah's full segment below. Suffice to say, Jon Stewart would have never done anything like this. 
Read more: Stop Comparing Samantha Bee and Trevor Noah — They Can Coexist in Late Night