The US Just Declared ISIS "Responsible for Genocide"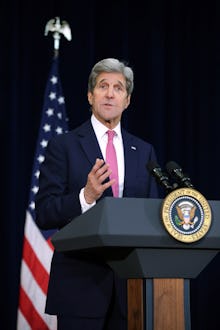 The United States government declared on Thursday the Islamic State group is responsible for genocide and war crimes. 
"[ISIS is] genocidal by self-proclamation, by ideology and by actions," Secretary of State John Kerry said, according to the BBC, in a press conference at the U.S. State Department. 
"My purpose here today is to assert in my judgment. [ISIS] is responsible for genocide against groups in areas under its control, including Yazidis, Christians and Shiite Muslims," Kerry also said, according to CNN. 
This announcement came just days after the House of Representatives unanimously voted on Monday that ISIS' atrocities in Iraq and Syria are tantamount to genocide. 
The terrorist network has targeted minorities since its rise to power in 2013 as part of its mandate to create a Sunni caliphate. 
Yazidis, a Kurdish religious minority, are found around the shared borders of Iraq, Turkey and Syria. Sinjar, a village in northern Iraq predominantly inhabited by Yazidis at the time, suffered a targeted insurgency by ISIS in August 2014. There was a miscellany of war crimes committed, from mass murder to forced conversions to sexual slavery.
The State Department's latest proclamation could pave the way for military intervention in the region. Thus far, America has opted for an extensive drone program instead of boots on the ground. Experts have warned that using drones too often results in civilian casualties and gives ISIS an opportunity to recruit those devastated locals. 
"ISIS forces have committed organized rape, sexual assault and other horrific crimes against Yazidi women and girls,"  Liesl Gerntholtz, executive director of the Women's Rights Division at Human Rights Watch, said in April. Yazidis, she said, endured "unimaginable trauma."
The House's unanimity in its decision to declare genocide may well indicate a willingness to more aggressively intervene.