Zayn Malik's "Befour:" Lyrics and Meaning Behind New Single Off 'Mind of Mine'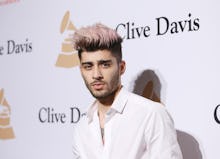 On Thursday, Zayn Malik dropped "Befour," the fourth single off Mind of Mine, the R&B crooner's first solo album after leaving One Direction. "Befour," streaming on Vevo as of Thursday, is a mesh of modern R&B and pop, featuring heavy electronic and synth production and a meaning reflective of Malik's departure from his former life. 
It's also available for streaming on Apple Music and can be purchased on iTunes ahead of Mind of Mine's March 25 release. According to the streaming service, the album will feature 18 tracks, including the previously released "Pillowtalk," "Like I Would" and "It's You." 
Read more: Is "It's You" About Gigi Hadid? Lyrics to Zayn Malik's New Single and Who It's About
While his previous three releases focus more heavily on love and emotional connections to the multiple women in his life, "Befour" shows Malik is focusing on himself, his career trajectory and isn't letting anyone control the path:
"I don't drink to get drunk/ I feel all the right funk/ If there's something I want/ I'll take all the right wrongs/ Now, I'm gonna stay in my zone/ I'm tired of picking that bone/ And I can't be bothered to fight it no more, no!"
Malik, who has been vocal about his departure from One Direction, having told Fader magazine in November, "there was never any room for me to experiment creatively in the band," is clearly breaking away from tradition in "Befour," and wants it to be known he's taking matters into his own hands:
"Time for me to move up/ So many hours have gone/ Heart beats the pump of my blood/ No strings for you to pull on/ You've got your tongue in your cheek/ So pardon if I don't speak/ Hand to my cuts into your soul, no."
Check out the full lyrics here via Genius, and listen to the song here.