Iowa Man Who Is "Allergic to Black People" Wore Surgical Mask to Fight Black Man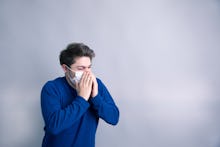 Racism is nothing to sneeze at. 
In the name of preparation, an Iowa City, Iowa, man wore a surgical mask while fighting a black person. The man, identified as 47-year-old Andy Benavidez by local news outlets, reportedly berated the man with racial slurs as he fought him. 
According to the broadcast, Benavidez told officers he was "allergic to black people" and didn't want to catch their germs. Benavidez faces an assault charge that is being classified as a hate crime.
Since the discovery of germ theory in the mid-1800s, there has been no reported case of a person catching "black" from another person. No word yet on whether Benavidez understands that he wore a germ mask to protect himself as he actually made physical contact with a black person during the fight.