Is Ted Cruz Actually a Member of This Christian Metal Band?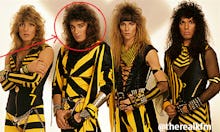 In addition to reportedly being the Zodiac killer, the good folks over at the internet are now wondering whether Republican senator and presidential candidate Ted Cruz might also be Christian metal icon Michael Sweet.
Sweet, a member of the band Stryper, tweeted out the comparison earlier this week.
Read more: Ted Cruz Ate Something Off His Own Face on TV — And We Need to Talk About It
"So I guess my doppelgänger is @tedcruz?" wrote Sweet. "Guess I better cancel the @Stryper tour so I can focus on my campaign."
The Stryper mystery is only the latest dustup for Cruz, whose identity has prompted some captivating conspiracy theories. In addition to lingering concerns over whether he's the Zodiac killer, Cruz has also never addressed the #LipGate controversy surrounding the mysterious speck of matter that spontaneously generated upon his lip during a Republican debate earlier this month. 
And when will he address those accusations of actually being Robert Kardashian and Grandpa Munster?
Eh, just roll with it.