Amy Schumer Makes Fun of Herself in Her 'Inside Amy Schumer' Season 4 Promo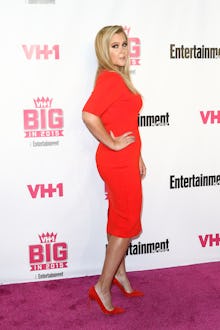 Comedian Amy Schumer has been on an upward launch following her feature film debut in Trainwreck, book deal and collection of various awards. On Thursday morning, Schumer dropped the preview for the fourth season of her Comedy Central show Inside Amy Schumer — and following Schumer's nothing-is-off-limits comedic style, the promo confronts her own recent massive stardom head-on. 
In the preview, Schumer is sitting in the doctor's office. "I'm sorry to tell you this, but you've been overexposed," the doctor said. When she asks what the cure is, he said, "Go away for a while. No late-night TV show appearances and no podcasts. And do not go back to your basic cable TV show." To that diagnosis, Schumer replied, "No can do, doc. Gotta follow my heart. Keep exposing myself."
Read more: 12 Times Amy Schumer Proved She's America's Most Badass Female Comic
The idea came to Schumer when writer Christine Nangle accepted Schumer's award for the individual achievement in comedy at the TV Critics Association Awards last September, according to Entertainment Weekly. "Amy wanted to be here, but unfortunately she couldn't," Nangle said, according to Deadline. "She's being treated for overexposure."
Inside Amy Schumer's executive producer Dan Powell said it would "be weird not to" confront and "also make fun of" Schumer's "higher profile," according to Entertainment Weekly.
The new season will premiere on April 21 on Comedy Central, and with a slew of guest appearances by Selena Gomez, Hamilton creator Lin-Manuel Miranda and Steve Buscemi.