Does Missy Elliott Have a New Album Out? Here's What the Rap Artist Has Released So Far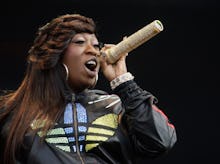 Missy Elliott hasn't released a full-length LP since 2005's The Cookbook. While Elliott has mostly kept a low profile after being diagnosed with Graves' disease back in 2008 to deal with its symptoms, she's never stopped working. She has since written and produced music for artists like Jazmine Sullivan, Keyshia Cole, Monica and Fantasia, as well as her protégés Tweet and Sharaya J.
After her show-stealing appearance in Katy Perry's 2015 halftime show at Super Bowl XLIX, Elliott's stock rose exponentially. Elliott would ride the wave from her new exposure by releasing "WTF (Where They From)" featuring Pharrell Williams. 
Read more: 7 Things to Say to Anyone Who Doesn't Get Why Missy Elliott Is the Queen of Hip-Hop
Of course, the single was just one of several Missy Elliott sightings throughout the years since her hiatus from music. In 2008, Elliott contributed "Shake Your Pom Pom" and "Ching-a-Ling" to the soundtrack for Step Up 2: The Streets. Many assumed that Block Party, her followup to The Cookbook, would be released the same year — but it never materialized.
Missy Elliott would go on to release "9th Inning" and "Triple Threat," both featuring frequent collaborator Timbaland, in 2012 as an iTunes exclusive. Elliott explained to Billboard that her relatively quiet release of the two songs was a sort of litmus test for "seeing what the climate was," since the industry had changed so drastically since her heyday.
After the singles failed to make an impact charts-wise, Elliott headed back to the drawing board. In 2014, she got a phone call from Pharrell Williams, who produced Elliott's comeback single, "WTF" and also played a part in jumpstarting Elliott's creativity.
Then, earlier this year, Elliott released "Pep Rally" in time for 2016's Super Bowl XLX — the single's release nearly coincided with the one-year anniversary of her guest appearance at Katy Perry's halftime show. 
Earlier this week, Elliott and Queen Latifah were guest speakers during Michelle Obama's SXSW keynote address. The two rap matriarchs touched upon what was missing from contemporary hip-hop: women. 
"You can become something," Elliott said. "All is not lost because someone tells you, 'You don't fit the mold'." Arguably, Elliott was including herself in that affirmation, working toward a comeback in an industry that values youth and favors men. But the recent success of "WTF" has seemingly reinvigorated Elliott. Given the public's renewed appreciation for the artist, as well as her continued presence in the media, it seems like Elliott's highly anticipated comeback album might not be too far off.