Amber Rose Posts Topless Picture on Instagram to #FreeTheNipple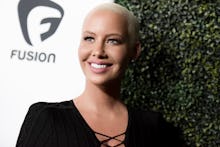 After Amber Rose touched on the double standard in how society treats women in pop culture like Beyoncé, as opposed to how society treats women like herself and Kim Kardashian West, the model, writer, fashion designer and activist posted an image of herself on Twitter and Instagram in solidarity with the #FreeTheNipple movement. 
The image, taken by photographer Solmaz Saberi, comes after Rose revealed that she would be hosting another Slut Walk event, according to Mashable. 
Read more: Amber Rose Doesn't Get Why She's Slut-Shamed for Owning Her Sexuality and Beyoncé Isn't
"Free the Nipple is a film, an equality movement and a mission to empower women across the world," the official website stated. "We stand against female oppression and censorship, both in the United States and around the globe."
The post on Twitter, which allows nudity, featured Rose's unedited breast. Instagram, however, has a strict policy barring nudity, so Rose's image was edited. "We know that there are times when people might want to share nude images that are artistic or creative in nature, but for a variety of reasons, we don't allow nudity on Instagram," the social media website's community guidelines stated.
The official Slut Walk website has a voting option for supporters to choose the event's next stop; the options are New York City, Philadelphia, Los Angeles and Miami.