The Lisa Frank-Inspired Tarot Deck You've Been Waiting For Is Finally Here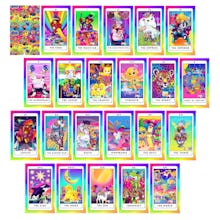 The tween witch in you is going to love this news: Animator and artist Ariel Hart has created a deck of tarot cards, the mystical cards often used to divine the future, in the style of retro-psychedelic designer Lisa Frank (aka the woman designed the cover of the unicorn notebook you had in fourth grade).
Read more: The Lisa Frank Facebook Page Has All the Memes You'll Ever Need
Hart posted images of the Lisa Frank tarot deck to her Tumblr page last week, and they quickly went viral — probably because the look gives us instant nostalgia. "Lisa Frank is a great example of a brand that was likely intended for young people that inadvertently found a way to stick with them for the rest of their lives," Hart told the Huffington Post in an email this week.
In Hart's deck, Justice is represented by a rainbow space bear, the High Priestess is an adorable dog sitting on a throne made of lollipops and Death is a bunny in a tutu riding a unicorn next to two cheerleading bears. Obviously.
Images of the tarot deck, as well as more of Hart's awesome art, are available on her Tumblr.