2016 Presidential Polls: Latest Results for Candidates Following Mega Tuesday Primaries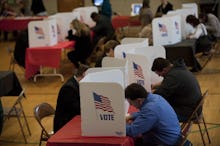 Mega Tuesday may have solidified frontrunner status for real estate mogul Donald Trump and former Secretary of State Hillary Clinton, but their opponents aren't dropping out of the 2016 presidential race yet. With another round of primaries on Tuesday — in which Utah Democrats, Idaho, Arizona and the Republicans of American Samoa will cast their votes for the presidential nominees — the candidates stand to pick up more delegates and to bolster their standing in national polls.
Read more: 2016 Election Predictions: Who Would Win in a Trump/Clinton/Cruz Face-Off?
On the Republican side, the number of contenders still in the race has been whittled down to three: Trump, Texas Sen. Ted Cruz and Ohio Gov. John Kasich. Florida Sen. Marco Rubio dropped out after losing the primary in his home state, Florida, to the Donald on Tuesday. And while he's undeniably the underdog for the GOP's nomination, Kasich insists he's in it to win it.
"I'm going to get in a covered wagon and hope for a big breeze ... This is the little engine that can," he said following his win Tuesday in Ohio. "I may go to the convention before this is over with more delegates than anyone else."
That seems unlikely, but he's not the only presidential hopeful committed to sticking it out against tall odds: Despite a flagging delegate count, Vermont Sen. Bernie Sanders says he won't be bowing to Clinton anytime soon. So it's five contenders for commander-in-chief — how are they faring in the polls?
According to the most recent polling data from RealClearPolitics, Trump leads the Republican pack by an average of 14.2 percentage points. He has 36% support, while Cruz has 21.8% and Kasich, 12%. Trump has amassed 673 of the 1,237 delegates needed to win the GOP's nomination, while Cruz has 411 and Kasich has 143. 
On the Democratic side, Clinton is up by 11.4 percentage points, with 51% support compared with Sanders' 39.6%. The party's nomination necessitates 2,382 delegates; Clinton has 1,606 and Sanders has 851.
It's not over till the fat lady sings, as they say.