Rihanna Reveals Her Greatest Regret — and It Of Course Involves a Bedazzled Thong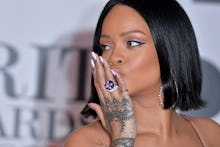 In an ideal world, Rihanna would have no regrets. She'd just go about her days, sipping margaritas with her friends on the beaches of Barbados, looking flawless at basketball games and renting out entire hotel room floors so she can smoke her weed in peace. She would remain unbothered in her sheer shirts while absentmindedly grinding on Drake. 
But unfortunately, we do not live in that world. In a new interview with Vogue, for an issue she also graces the cover of while appearing to walk on water, RiRi has revealed that she lives with one very big regret — and it involves a thong.
You can barely breathe, we know. 
Our fearless leader in waist-high boots revealed that her biggest regret involves not wearing a bedazzled thong underneath that similarly totally sheer Adam Selman-designed, Swarovski crystal-encrusted dress she wore to the CFDA Awards in 2014 (Warning: This being Rihanna, it's about to get NSFW).
C'mon, you know the one: 
"I just liked it better without the lines underneath," she explains. "Could you imagine the CFDA dress with a bra? I would slice my throat. I already wanted to, for wearing a thong that wasn't bedazzled. That's the only regret I have in my life."
The Vogue reporter, Abby Aguirre, further confirmed by asking, "Wearing a thong that wasn't bedazzled is your greatest regret in life?" To which Rihanna said: "To the CFDA Awards. Yes." 
Same, Rihanna. Extremely same. In fact, we're regretting not wearing a bedazzled thong right this second. And while we're at it, we'd also like to publicly regret...
• Never grinding on Drake absentmindedly.
• Not taking the time to vacation in the Barbados.
• Not wearing that many sheer outfits at all.
• Never saying the words, "Why, my tits bother you?" to a reporter on a red carpet.
• Not ever being a part of a rumored romance with Leonardo DiCaprio.
• Never counting our money in the nude.
But our biggest regret? Not being able to be Rihanna. Where do we repent?