Rihanna Covers the April Issue of Vogue, Explains Why 'Anti' Took so Long to Create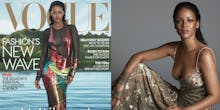 Rihanna may have one of the busiest schedules out of any pop star in the music industry at the moment, but the Barbadian-born hitmaker found time to grace the cover of Vogue's April issue while preparing for her Anti world tour. The publication profiled Rihanna for its latest issue, allowing her to set the record straight with her loyal fanbase called the "Navy" as to why Anti took so long to be released.
According to her interview with Vogue, Rihanna was hoping to take a year off after her Unapologetic tour in 2013, to focus on creating a new, original sound. "I lasted a week," Rihanna told Vogue's Abby Aguirre. When photos surfaced of Rihanna entering a studio one night two years ago, "my fans were like, 'Oh, yes! We's droppin' a single.'"
Read more: Rihanna Reportedly Rented Out an Entire Hotel Floor So She Could Smoke Weed in Peace
The singer also addresses a number of her other endeavors, including her choice to boldly attend the 2015 CFDA awards covered in Swarovski crystals (you got a problem with that, girl?):
"I just liked it better without the lines underneath," Rihanna told Vogue, explaining the decision to show up to the fashion event next to nude. "Could you imagine the CFDA dress with a bra? I would slice my throat. I already wanted to, for wearing a thong that wasn't bedazzled. That's the only regret I have in my life." When Aguirre asked for confirmation as to whether ditching a bedazzled thong was actually the notorious bad gal's biggest regret, she easily replied, "To the CFDA Awards. Yes."
It's an unusually candid interview from Rihanna who typically shies away from such sort of personal profiles. Perhaps it's to prepare fans for her explosive world tour, which kicked off in Jacksonville, Florida. 
Rihanna certainly seems ready for life on the road, reportedly renting out an entire hotel floor at her first stop to smoke her weed in peace. She might have taken a break, but with April's Vogue cover, a world tour and her eighth studio album, it's safe to say: Rihanna is back.