In One Video, the Vicious Cycle Behind the Racial Wage Gap Is Exposed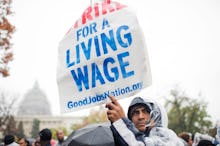 In the U.S., the top 10% of income-holders are white men. 
Who's to blame for this? It's not so simple.
But according to Franchesca Ramsey of MTV's Decoded, this systemic inequality follows a vicious cycle. A primary driver is the racial wage gap. 
From de jure to de facto segregation, she outlines how people of color are screwed by our education and housing system more than 60 years after Brown v. Board of Education largely failed to desegregate schools:
Read more: Who Bears the Weight of Donald Trump's Racism? Look to America's Children