A New Fast Food Chain Allows You to Order and Eat Without Any Human Interaction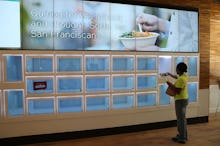 Have you ever wished you could eat meals without even having to acknowledge a fellow human as they take your order or hand you your food? Then Eatsa is for you. The restaurant chain offers completely automated service via iPads and cubbies — no visible human involvement to be found.
Read more: One Element Could Unlock the Future of Sustainable Energy
Eatsa has two locations in California and plans to open ten more over the coming year, according to trade publication Nation's Restaurant News. According to the Eatsa website, you can order online, on your phone or on an "in-store iPad." 
Then, your food shows up in a "personalized cubby," the front of which, reported the New York Times in September, is an LED screen that goes black while your meal is deposited inside, lest you see a human hand touching your mango peach iced tea.
According to Eatsa's online menu, the restaurant offers a variety of quinoa bowls, all vegetarian and all sold for $6.95 — including a quinoa pear salad, a quinoa burrito bowl and a quinoa curry stir-fry.
Eatsa's mission statement on their website reads, "Fresh and nutritious food doesn't have to cost a fortune or take forever to prepare. At Eatsa, we've upped the taste factor alongside affordability and speed. ... Our commitment to you is simple: faster, nutritious, more affordable and tastier food."
"The objective is over time we want to automate more and more to increase speed and reduce cost, so we create a food product that's much cheaper and also happens to be healthy," Eatsa founder David Friedberg told the Times. 
When asked about the potential impact of automated fast food restaurants on the job market, Friedberg said, "We can sit and debate all day what the implications are for low-wage workers at restaurants, but I don't think that's fair. If increased productivity means cost savings get passed to consumers, consumers are going to have a lot more to spend on lots of things."