Lin-Manuel Miranda Freestyled About Feminism While Emma Watson Beatboxed and It's Awesome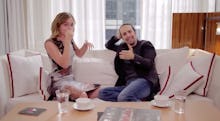 The 10-dollar Founding Father without a father just got a lot farther — with the help of Emma Watson.
That's right: Hamilton creator and all-around musical genius Lin-Manuel Miranda rapped about gender equality while feminist icon Emma Watson laid down a beat — and you'll wanna be in the room where it happens.
How lucky we are to be alive right now.
Read more: Emma Watson Just Took a Small Stand for Female Sexuality
The two superstars sat down recently to film a video for HeForShe, a U.N. initiative to promote global gender equality. They chatted for a bit — in the preamble, Miranda told Watson he's a feminist — before Watson agreed to beatbox for Miranda, who freestyled about the necessity of equality for women.
In addition to her acting career, Watson serves as a U.N. Women Goodwill Ambassador and has been vocal about her personal feminism. It was clear she and Miranda were having a genuinely good time together even though, as Watson put it, beatboxing on camera made her turn red as a to-mah-to. 
Never change, you two.