Women Who Read 'Harry Potter' Are Changing the Literary World in the UK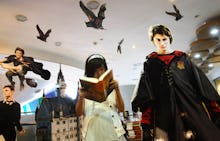 Are you a woman between the ages of 25 and 34? Did you read Harry Potter in your youth? Then congratulations, you win — and your prize is the entire publishing industry.
According to the Guardian, U.K. women who grew up with J.K. Rowling's wizardly world are popularizing a literary subgenre called "grip lit," a flavor of crime fiction that plays on psychological suspense. Because these women represent the most active sector of the book-buying market, they're not only driving trends in what gets read, but also what gets written.
Read more: Fantasy-Reading, Cape-Wearing Kids Might Be Better Learners Than You Normies
"It is Generation Potter," Jo Henry of Nielsen Book, which tracks book sales, told the Guardian. "Two years ago they were reading YA, now they're coming on to grip lit – it's the same cohort." 
By Nielsen's numbers, sales of crime fiction are growing, and women make up 67% of buyers. Millennial women are the most powerful buying force within that demographic. The audience for the best-selling Girl on the Train by Paula Hawkins, the Guardian said, was 60% female; the most likely reader within that group fell between the ages of 25 and 34, reinforcing the theory that women who fell in love with Harry Potter early maintain their interest in the thriller genre longer.
What does that mean? That the industry will keep publishing the kinds of books they're buying.
"I think it's a generation we have to keep an eye on – they're obviously really heavy book readers, and we have to make sure we're reaching them in the right way," Henry continued. "They have huge spending power, and this will only increase."
And while girls may make up the bulk of this readership, male fans chart the same trends, the Guardian reported. Which is good news: the Harry Potter series has sold over 400 million copies globally. Not only might those millions of Potter fans be more empathetic humans, they're also likely to keep buying and reading books long-term.