Anonymous Just Made Good on Its War Against Donald Trump in One Massive Cyberattack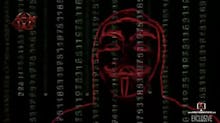 After targeting the Islamic State group and the Ku Klux Klan in 2015, the rogue hacker collective Anonymous declared "total war" on Republican Party frontrunner Donald Trump. Now, Anonymous is proving it's not messing around. 
On Thursday, Anonymous released what it claims to be Trump's Social Security number, cellphone number and other private, albeit more widely known information about him, such as the names of his parents, children, legal representation and agent. 
Read more: The New York Times' First-Ever Profile of Hitler Is Being Compared to Trump
The hacktivist group posted the information to Pastebin.com and Ghostbin.com, where users can store text for a fixed amount of time, and included links to the pages in the description of a related YouTube video.
A Nexis public records search indicates that the first five digits of the Social Security number posted to Pastebin are accurate.
"Donald Trump has set his ambitions on the White House in order to promote an agenda of fascism and xenophobia as well as the religious persecution of Muslims through totalitarian policies," says the masked speaker in the video.
The speaker goes on to list policies promoting intolerance Trump has proposed during his campaign, including his platforms on immigration and his plan to track of Muslim Americans. 
"Now is the time to unite to fight fascism to show that we are very serious to stop any proposed Fourth Reich by the fascist Donald Trump," says the speaker, in a reference to Adolf Hitler. "We have attached a gift of sorts ... that might be able to insist you all in independently investigating this would-be dictator. These are provided for informational purposes only."
While the possibilities of what one can do with Trump's Social Security number might get your wheels turning, Anonymous had this message of caution for viewers:
"Do with them what you will, bearing in mind that you alone are responsible for your actions."
For now, calling Trump's alleged cell phone number goes straight to voicemail. 
March 17, 2016, 4:48 p.m. Eastern: We have updated the story to better reflect that the Pastebin information dump is what its anonymous uploader alleges to be Trump's personal information. We will update the story again once it is verified — and at every step of the way along the verification process.
Get the five stories that will challenge you to rethink the world by signing up for MicCheck Daily.