Jhené Aiko, Little Simz and Wendy Davis Advocate for Gender Pay Parity at SXSW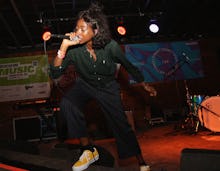 AUSTIN, TEXAS — Hundreds of bands took the stage across dozens of showcases for night two of South By Southwest on Wednesday. Yet few of those performances rang with as loud of a call to action as Tumblr's 79 Cent showcase at Austin's Historic Scoot Inn.
In partnership with women's advocacy group UltraViolet, Tumblr presented five female-fronted acts — Jhené Aiko, Empress Of, Little Simz, Ex Hex and Tacocat — all playing to highlight one extremely vexing sum: 79 cents. 
That number represents the amount women made to men's full dollar in the United States in 2014, according to the Institute for Women's Policy Research. However, as Wendy Davis, former Texas state senator and staunch defender of female reproductive rights, reminded the crowd during an impromptu onstage appearance, if you're a woman of color, a trans woman or an older woman, that pay gap is even wider. 
Read more: Missy Elliott and Queen Latifah Discuss the One Thing That's Missing From Hip-hop
All these women can do their jobs as well as any man, Davis told the crowd to wild applause; the acts assembled for the cause proved the truth of her words beyond a shadow of a doubt.
Davis kept her speech short and sweet, but later elaborated on the points she made in an email conversation with Mic.
"Wage disparity is real and it impacts not only women who are underpaid, but their families as well," Davis told Mic. "And it ripples through our economy because women make most spending decisions for their families. When they have less purchasing power, the economy suffers. It's true that when women do better, we all do better. The converse is also true."
Davis encouraged young people to make their voices heard by voting. 
"Use the incredible strength of your age group's demographic to elect people to state and federal offices who are more committed to equalizing pay than they are to corporations who enjoy the status quo," Davis said. She also shared the address of her new newsletter Deeds Not Words, which launched Monday at SXSW and will look to make policy-making tools available to young people everywhere.
The music helped bless these issues with another level of emotional power. To think any of the women up there, from London's machine-gun spitting Little Simz to the sultry R&B crooning Jhené Aiko, could possibly earn less than their male equivalents felt unthinkable.
"It's ambitious, but that doesn't mean it's not possible," Little Simz told Mic about the showcase's mission after her set. "It takes people being willing to spread and share more awareness and care."
Music, she believed, was an incredible vehicle to helping inspire that drive. 
"Music is the most influential thing we have," she said. "Not politics, not any of the other shit. It's music. That's what we go to for all different types of news. It's what brings everyone together 100%."