Obama Hints That the Clock Is Running Out for Bernie Sanders' 2016 Campaign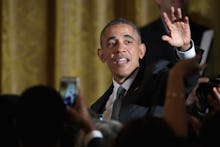 Delivering a hard-nosed assessment of the Democratic presidential race, President Barack Obama reportedly told donors at a private fundraiser that Bernie Sanders' campaign is in its last throes and that the party must soon coalesce behind frontrunner Hillary Clinton. 
The remarks, reported by the New York Times, came at an Austin, Texas, fundraiser on Friday. 
Read more: Obama Has Some Tough Words for Bernie Sanders
According to the Times, Obama steered clear of "explicitly" urging Sanders to end his campaign — which is struggling amid a daunting delegate deficit and a string of state losses — but donors present interpreted Obama's remarks as a sign that he thinks a drawn-out primary fight will only aid the Republican Party.
In a particularly biting comparison, Obama reportedly said that while Sanders is perceived as more authentic than Clinton, former President George W. Bush — widely reviled among Democratic voters — was also seen as an authentic politician. 
Meanwhile, attendees told the Times, Obama expressed his view that Clinton was best-positioned to safeguard his administration's policy agenda. Still, Obama acknowledged, his 2008 primary opponent and former secretary of state has not generated as much excitement as Sanders among crucial segments of the Democratic electorate.
A tortured relationship: Obama's remarks mark the latest chapter in a particularly vexed relationship with Sanders.
A self-proclaimed democratic socialist, Sanders was long one of Obama's fiercest critics from the left, even urging a progressive primary challenge to the president's 2012 re-election bid. And embedded in Sanders' critiques of the "rigged" American economy is the view that Obama hasn't gone far enough in leveling the economic playing field.
Seeking to win over loyal Democratic voters, Sanders has sought to balance his substantive critiques of the administration with expressions of admiration for what Obama has accomplished in the face of fierce Republican opposition. 
But it's Clinton — who was often unsparing in her attacks on Obama in 2008 — who has most forcefully pitched herself as a worthy successor to the president. On matters from financial regulation to health care reform, she has bear-hugged Obama and dinged Sanders for his criticism of the administration's record.
Though that could conceivably backfire in a general election, the latest polls show Obama's approval ratings trending upward, hitting positive territory for the first time in more than two years in the RealClearPolitics average. 
Publicly neutral: While the president is not among those feeling the Bern, he has not endorsed Clinton, either.
Still, his preference has long been clear. Speaking to Politico in January, Obama suggested that Sanders' intensive focus on inequality would be a detriment in the Oval Office, saying that presidents "don't have the luxury of just focusing on one thing." 
But with Sanders' campaign confident that it can perform well in a series of upcoming nominating contests in the Mountain West, it's unlikely that the senator will heed Obama's implicit call to stand down.
For Democrats anxious to turn the focus to likely GOP nominee Donald Trump, Sanders' determination to compete through the final contests in June may be frustrating. But as Obama and Clinton know full well, a protracted Democratic primary doesn't necessarily redound to the opposition's benefit.
It was Clinton, after all, who didn't end her presidential bid until June 7, 2008 — long after the delegate math effectively foreclosed her path to the nomination.