Lindsey Graham Announces Support for Ted Cruz Three Weeks After Joking About Murdering Him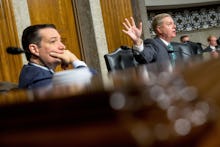 Lindsey Graham has picked his poison: Ted Cruz. 
The South Carolina senator and former Republican presidential hopeful who once likened picking between frontrunner Donald Trump and Cruz to "being shot or poisoned," told CNN on Thursday he'll raise money for Cruz to help stop Trump's march to the nomination.
Graham joked just weeks ago about his colleagues' low opinion of Cruz, saying that "if you kill Ted Cruz on the floor of the Senate, and the trial was in the Senate, nobody could convict you."
Read more: Lindsey Graham Says the Republican Party Has Gone "Batshit Crazy"
Graham told CNN's Dana Bash that while Cruz still isn't his first choice for commander-in-chief, "he's a reliable Republican conservative," while Trump "would be a disaster for the party."
The lawmaker's willingness to help Cruz battle Trump — despite gallons of past bad blood — is a fresh indication of just how concerned GOP establishment figures are about the Manhattan billionaire becoming the new face and voice of the party.
With Marco Rubio out of the race after losing his home state of Florida on Tuesday and Ohio's John Kasich far behind in victories, Cruz is pushing hard to solidify his position as the anti-Trump in the heated primary. 
Graham, who initially endorsed former Florida Gov. Jeb Bush after ending his own presidential campaign in December, told Bash he actually considers Kasich the GOP's "most viable" general election choice.
He doesn't see how Kasich can overcome Trump in the fight for the 1,237 delegates required to capture the nomination, however — so he'll host a fundraiser for Cruz in Washington during the upcoming American Israel Public Affairs Committee policy conference, CNN reported.
Graham openly conceded that his willingness to join the "Cruz Crew" is a huge sign that Republicans are "tells you a lot about where we are as a party."
"I've had many differences with Sen. Cruz's tactics and the way he's behaved in the Senate," Graham said Thursday, but still feels the Texan would be a "more reliable partner for Israel" and would build the controversial Keystone XL pipeline.