A 10-Year-Old Just Drew the Only Cartoon About Flint That Anybody Needs to See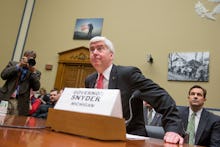 A 10-year-old from Flint, Michigan, may have made one of the most poignant statements regarding the Flint water crisis — in the form of a cartoon. 
According to Gawker, Iain MacIntyre traveled from Flint to Washington, D.C., to watch Michigan Gov. Rick Snyder testify before the House Oversight and Government Reform Committee on Thursday. Originally posted by Flint community organizer Nayyirah Shariff, the image shows Snyder during his testimony as a stick figure caricature under a thought bubble filled with the word "lie."
Read more: 22 Powerful Photos Show the Devastating Reality of Flint's Water Crisis
Snyder was grilled by members of Congress, but most notably by Rep. Matt Cartwright of Pennsylvania. "I've had about enough of your false contrition and your phony apologies," Cartwright told the governor, according to the Detroit Free Press. "People who put dollars over the fundamental safety of people do not belong in government, and you need to resign, too, Mr. Governor," he added.
MacIntyre's family is one of the several families that came to the nation's capital, alongside the AFL-CIO and Michigan-based activist group Flint Rising, Gawker reported. During the hearing, the 10-year-old drew another, more intricate portrayal of the proceedings.
His sister, Broghan MacIntyre, also decided to show off her artistic talents.
Correction: March 21, 2016