Here Are the 7 Best Food and Wine Pairings for Your Next Dinner Party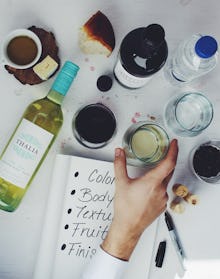 It's dinner-party time and the pressure to pick the perfect crowd-pleasing libation is on. There are many pathways to take, but wine and food pairings are a strong choice. Pairing food with wine involves either matching or contrasting the flavor components (fat, acid, salt, sweetness, bitterness and texture), richness and taking into consideration the textures of the two, according to Wine Enthusiast. Like we said, there are many pathways, all with the end goal of enhancing each other. 
Tannins, the textural component of wine that gives it its dryness, are said to go well with fatty and rich foods, the Huffington Post reported. Keep in mind a wine's tannin content and origin may mean more than the color of the wine. Fresh food goes well with younger wines, and delicate meals go well with lighter wines. 
Read more: Here Are the 8 of the Most Drool-Worthy Food Instagram Accounts
But in the end, it's going to be who's sitting at the table, not what. Some argue that wine and food pairings are just baloney, and it doesn't matter if a pairing is "ideal," according to the Washington Post. 
Still, for a chance to optimize your eating and drinking festivities, we decided to break down some of the best food and wine pairings.
1. Pinot Grigio for light fish recipes
This delicate white wine helps bring out the flavor in equally light seafood dishes, according to Food and Wine. 
2. Chardonnay for creamy seafood dishes
On the other hand, heavier seafood or fatty fish dishes, like shrimp scampi, go better with Chardonnay, Food and Wine reported.
3. Dry rosé for cheese 
Pairing wine and cheese can be overwhelming but just about every cheese goes well with a dry rosé, which has the acidity of white wine and the fruitiness of red wine.
4. Cabernet Sauvignon for red meat
If you're serving red meat, consider pairing it with a tannin-filled Cabernet or Bordeaux.
5. Syrah for spicy food
Syrah is a spicy red wine that goes well with heavily seasoned foods, especially meat.
6. Burgundy for poultry
Sommelier Joe Camper from DB Bistro Moderne restaurant in New York holds the general rule that Burgundy wines, such as a dry red Pinot Noir or a white Chardonnay pairs well with just about any bird, according to Serious Eats.
7. Pinot Noir for pepperoni pizza
Let's get serious here. Pinot Noir is fruity and rich, which complements tomato sauce and creamy mozzarella cheese, according to Wine Enthusiast.