Google's Sidewalk Labs Is Creating a Platform to Make City Transit Better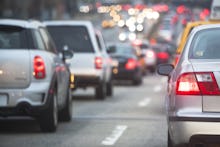 Google is trying to transform public transportation. Sidewalk Labs, Google's urban planning subsidiary, is teaming up with the Department of Transportation to develop a data analytics platform that could change the way city transit works. 
The project's goal is to create a platform that will connect under-serviced communities with the public transit they need, while generally improving traffic flow by incorporating new technologies like ride-sharing and autonomous vehicles. 
The collaboration is a part of the DOT's Smart City Challenge initiative, which will allocate as much as $40 million to the city with the best plan for becoming "the country's first city to fully integrate innovative technologies – self-driving cars, connected vehicles, and smart sensors – into their transportation network." The department recently announced its seven finalists for the competition, which include Austin, Texas; Columbus, Ohio; Denver, Colorado; Kansas City, Missouri; Pittsburgh, Pennsylvania; Portland, Oregon and San Francisco, California. The winning city will be the first to receive Sidewalk Labs' platform, called Flow. 
"We strongly believe empowering underserved communities is a key component of the smart city challenge," DOT Secretary Anthony Foxx said at a press conference Thursday. 
Google will deploy a series of Wi-Fi kiosks around the winning city as part of the Flow infrastructure. The distribution plan will look similar to another Sidewalk Labs project called LinkNYC, a massive free public Wi-Fi pilot that's taking over New York. 
Flow will use data from Google Maps, Waze, strategically placed Wi-Fi hubs and other yet-to-be-identified sources to locate neighborhoods that need better access to public transportation, areas with lots of congestion and general traffic patterns. Data collected from users connected to the public Wi-Fi kiosks will be anonymized before it's aggregated, Dan Doctoroff, Sidewalk Labs' founder and CEO, said at a press conference. 
The platform will theoretically help officials make decisions about how to involve new technology in urban planning. It could also lead to the development of consumer-facing apps that let people know the parking availability at a proposed destination before they leave their house, Doctoroff said.
For now, Sidewalk is working with the seven finalist cities to determine their needs and how a platform could potentially work with existing public infrastructure. Both the DOT and Google hope to bring the platform, once fully realized, to many cities around the U.S.