Iggy Azalea Teases Release of New Song "Team," and Twitter Responds With One, Big "Meh"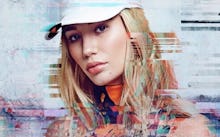 If an international pop star drops a new single but nobody is interested in listening to it, did they really release new music? Iggy Azalea has been teasing what's left of her dwindling fan base with promotion for her upcoming song "Team" after not releasing a single project for at least a year, according to her Twitter. Unfortunately, it doesn't seem like anyone is anticipating the release of a new Azalea single. 
Azalea posted a photo on Instagram asking her followers to tell their friends about her forthcoming release. The picture is of Iggy Azalea, appearing much different than what she looks like in typical candid photographs, with distorted bold wording in front of her revealing the song title and her name — just in case you couldn't recognize her (or even remember who Iggy Azalea is in the first place).
Read more: Iggy Azalea Wants You to Know She Doesn't Hate Black People, She Just Hates Azealia Banks
Unfortunately for Azalea, it appears people have jumped off the Iggy Ship for quite some time:
Sad face. The "Fancy" singer has had a tough time recently on the internet, defending herself against accusations of racism, lambasting statements made by BET awards host Erykah Badu and even rumors of a heroine addiction. 
Not to mention, the web will never let her live down "Nothing Like Me," a song and accompanying music video featuring Azalea before the fame, which managed to resurface on YouTube a couple of years ago. 
Still, Azalea seems optimistic her new song will be a surefire hit. The song will mark her unofficial comeback to the music industry spotlight, and likely set the stage for the release of her next album. At least someone's excited.