Ariana Grande Just Announced "Be Alright" Is the Next Single Off 'Dangerous Woman'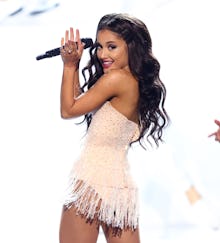 Ariana Grande announced on Twitter Thursday she'll be dropping her third single off her forthcoming album Dangerous Woman, set for release on May 20. "Be Alright" will drop at midnight Eastern on Friday, and follows two pop anthems Grande recently released, "Focus" and "Dangerous Woman," which shares the same name as the upcoming project.
Grande fans, or Arianators as she calls them, are hungry for new music — and especially the singer's highly anticipated album. Within 15 minutes of posting her tweet, Grande's surprise release message on Twitter received over six thousand retweets and well over eight thousand likes. 
Read more: Ariana Grande New Album 'Dangerous Woman': Release Date, Track List and More
Unfortunately for fans hoping to get a closer look at what Grande has in store, only four track titles on iTunes are available:
2. "Dangerous Woman"
3. "Be Alright"
4. "Into You"
6. "Let Me Love You" (featuring Lil Wayne)
It remains unclear if "Focus," a song Grande released in October 2015, will appear on Dangerous Woman, as the already-available track doesn't appear on the album's iTunes page. Considering fans will still have a couple months until the release of the album, perhaps Grande fans will be handed another treat in the form of yet another single.
Regardless, one thing is for sure: Once the pop diva drops her next single, expect your Twitter timeline to blow up with Arianators: