Gwen Stefani "Make Me Like You" Lyrics: Meaning of Single About Boyfriend Blake Shelton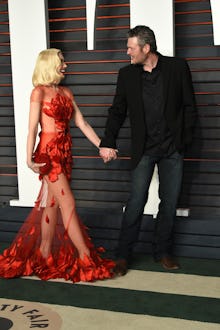 Former No Doubt frontwoman Gwen Stefani has dealt with lot of shit in her love life, between her ex-husband Gavin Rossdale cheating on her and their divorce, the emotional roller coaster she underwent is evident on a majority of the tracks on her new album This Is What the Truth Feels Like, released Friday. But the album's single "Make Me Like You" is unique in that its lyrics are about the hesitation of new love — with boyfriend and country singer Blake Shelton — rather than the lingering burden of broken love.
Read more: Gwen Stefani on Her Breakup From Gavin Rossdale: "I Was Literally Dead, Like Panicking"
"I was fine 'fore I met you," Stefani sings in the first verse, suggesting she's afraid to be vulnerable again. "I was broken but fine/ I was lost and uncertain/ But my heart was still mine/ I was free 'fore I met you/ I was broken but free/ All alone in the clear view, but now you are all I see." The full lyrics are available on Genius.
Stefani opened up to Refinery29 about the meaning behind "Make Me Like You": feeling hopeless until she connected with Shelton — whose ex-wife, singer Miranda Lambert, reportedly cheated on him as well. "It was a really super-unexpected gift to find a friend, somebody who happened to be going through the exact same thing as me, literally mirroring my experience," Stefani told Refinery29. "I don't think it's an accident that that happened. It saved me."
Shelton promoted the single for what he said are obvious reasons. "You can probably understand the multiple reasons why I bought this... I hope you do too!!!" He tweeted upon the single's release in February.
The eager beaver screenshotted "Make Me Like You" before it even finished downloading — that's true love right there.