Female Weed Entrepreneur Jane West Empowers Women to Join the Cannabis Industry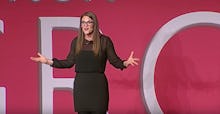 Jane West is grabbing the marijuana industry by the roots. Not only is she cashing in on the green, but she's helping empower and connect other female entrepreneurs to do so as well. The former mid-level corporate manager and mother of two was named one of the "most influential people in cannabis" from the International Business Times. But she describes herself as "one part Martha Stewart, and one part Walter White."
In 2014, West was fired from her edibles company after being shown vaping in the CNBC documentary Marijuana in America. So she started a female networking group called Women Grow with the girl-power belief that women are the future of marijuana, according to Inc. Women want to see "products for us, designed by us," she told Inc. 
To start Women Grow, West raised $42,000 in seed money from 14 cannabis businesswomen — and the group really has grown, with meetings now held in 44 cities and with 21,000 subscribers to its weekly newsletter, reported Inc.  
Read more: The Booming Marijuana Industry Is Still Too White
"I identified quickly that there is no patriarchy in this nascent industry and I saw the opportunity to make cannabis the most inclusive, diverse sector of the American economy," she told Inc. West sees the marijuana industry as a space where women have the ability to open their own companies. 
Marijuana is an explosive market, already legal in some form in at least half the states, including Washington, D.C. There are few barriers for women to break into the $5.4 billion industry, CNN reported. So far, 36% of all executives in the marijuana industry are women — and counting.
West follows her own advice, having launched a line of marijuana lifestyle products, which includes delicate gold vaporizers and roach clip necklaces.