Domino's Will Be Sending Robots to Deliver Pizza in New Zealand, Because They Can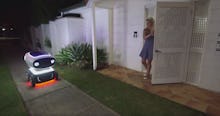 It won't be long before Amazon is filling our skies with delivery drones with packages of all kinds of products. Now, it seems, technology is addressing an even more pressing need: an efficient way to deliver pizza. Global pizza chain Domino's unveiled a robotic pizza-delivery system — to be first used in New Zealand — that the company described as "the world's first autonomous pizza-delivery vehicle."
Called DRU, Domino's Robotic Unit, the robot will be able to deliver pizza within a 12 1/2-mile radius to customers, according to Agence France-Presse, and has a variety of sensors on its small frame to avoid obstacles. It's demonstrated to a small effect in the video Domino's released on Thursday.
DRU will be able to store pizzas and other Domino's delivery items at the top of the bot's compartment, which is heated, and a customer just has to unlock it with a code provided to them to get their meal, Verge and Agence France-Presse reported. While it is unclear when DRU will begin its first deliveries in New Zealand, the country's government is already looking forward to the initiative.
"This is an exciting opportunity for New Zealand... over the last 12 months I've been actively and aggressively promoting New Zealand as a test bed for new transport technology trials," New Zealand Transport Minister Simon Bridges told Agence France-Presse. 
Read more: Amazon's Drone Delivery System Is Almost Here — This Is What It Looks Like
h/t Verge