Bernie Sanders Could Go on a Winning Streak in the Upcoming 2016 Primaries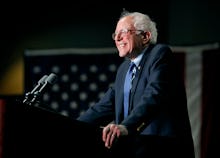 After Democratic frontrunner Hillary Clinton swept the five delegate-rich nominating contests on Tuesday, Bernie Sanders' campaign urged supporters of their progressive insurgency to keep the faith.
"Starting today, the map now shifts dramatically in our favor," campaign manager Jeff Weaver wrote Wednesday in a fundraising pitch to supporters. "We think we have a great shot at winning every single state that votes in the next month." 
Read more: Obama Hints That the Clock Is Running Out for Bernie Sanders' 2016 Campaign
That's more than mere spin. A look at the lay of the land finds Sanders well-positioned in the eight contests that vote over the next four weeks, with the Vermont senator likely to notch at least a handful of victories that would underscore the durability and resonance of his populist message.
Here's a look at the upcoming nominating contests — and why even a clean sweep would still leave him with a steep climb to victory over Clinton.
March 22: Utah, Idaho and Arizona
Tuesday is likely to deliver Sanders at least two victories, with Utah and Idaho looking like sure bets for the senator and a win in Arizona potentially within reach.
While Utah consistently ranks as one of the most Republican states in the country, Democrats aren't extinct there. And those who remain are often quite liberal. 
Salt Lake City voters twice elected progressive populist Rocky Anderson as mayor, and Anderson, who mounted a third-party presidential bid in 2012, is firmly in Sanders' camp ahead of Tuesday's primary.
Caucuses in neighboring Idaho should also prove fertile ground for Sanders. Like Utah Democrats, Idahoans overwhelmingly favored then-Sen. Barack Obama over Clinton in 2008, and Sanders' 19-point win in the Colorado caucuses points to Clinton's continuing struggles with Democrats in the Mountain West.
Meanwhile, a victory in Arizona would mark a major coup for Sanders. He boasts the support of Democratic Rep. Raul Grijalva, who recently cut a series of Spanish and English-language ads for Sanders. But Clinton has a high-profile backer of her own: Former Rep. Gabrielle Giffords, who was nearly fatally wounded in a 2011 shooting in Tucson, Arizona, and is starring in ads touting Clinton's support for new gun control measures.
A poll this week found Clinton leading Sanders 50% to 24% in Arizona, but the tiny 300-person sample and high rate of undecided voters cast some doubt on those figures.
With a combined 131 pledged delegates at stake Tuesday, Sanders needs to do more than eke out wins. To prevent his path to the nomination from narrowing even further, he must rack up large margins over Clinton.
March 26: Alaska, Hawaii and Washington
The caucuses in Alaska, Hawaii and Washington will award a total 142 pledged delegates, and Sanders ought to walk away with most of them.
Obama routed Clinton by about 50 points in both Alaska and his birth state of Hawaii eight years ago, and he narrowly prevailed over her in the Washington caucuses. 
On average, Obama won about 67% of the vote in the three states, and as the New York Times' Nate Cohn notes, Sanders tends to finish about four points worse than Obama's performance in caucus states.
April 5: Wisconsin
With a Democratic electorate that was 88% white in 2008, the Badger State's demographics are favorable to Sanders, and the state's robust history of progressive and union activism — dating to the turn of the 20th century — may also prove a boon to the senator.
A Marquette University poll in February found Sanders edging Clinton 44% to 43%. But given the state's demographic profile and the liberal bent of Democratic voters there, Sanders needs a result more along the lines of Obama's 17-point landslide in 2008.
An outcome in which Sanders and Clinton more or less evenly split Wisconsin's 86 pledged delegates would signal persistent support for the senator, to be sure, but it would also highlight the tall order he faces in marshaling a winning coalition.
April 9: Wyoming
It's not exactly rife with delegates — there are only 14 pledged delegates at stake — but Wyoming's caucus should look kindly upon Sanders.
Clinton's weakness in much of the West and Obama's 24-point win eight years ago point to a good showing for Sanders.
From there, it only gets tougher: Say Sanders goes 8-0 — a rather big if, but far from an inconceivable scenario.
Even landslide wins would only slightly narrow an already incredibly difficult to surmount Clinton delegate lead. Moreover, the map then gets considerably more difficult for Sanders.
On April 19, Clinton is virtually assured of winning a large majority of New York's 247 pledged delegates. An Emerson College Polling Society poll released Thursday found her leading Sanders 71% to 23% in the state she once represented in the Senate, despite the Sanders campaign's insistence that it will be competitive in New York.
In the month and a half after New York votes, Pennsylvania, New Jersey and California offer the largest delegate prizes. Those are all states Clinton won eight years ago, and their demographic profiles create considerable hurdles for Sanders.
But wouldn't a winning streak between now and mid-April give Sanders vital momentum heading into the later contests? Perhaps he'd be aided a bit, but the Democratic results so far underscore the limits of using nebulous "momentum" as a gauge of what's likely to happen next. Sanders was unable to parlay his landslide New Hampshire win into a victory in the Nevada caucuses, and his shock win in Michigan on March 8 didn't prevent him from getting routed on Tuesday.
The bottom line: The headlines are probably going to get a bit better for Sanders over the next few weeks. But to paraphrase John McCain, the fundamentals of Clinton's campaign are strong.