People Are Body-Shaming Portia De Rossi for Being Too Thin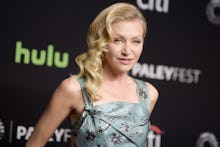 On Tuesday evening, Scandal actress Portia De Rossi hit the red carpet for a PaleyFest panel with the rest of the show's cast at the Dolby Theatre in Hollywood. The next day, celeb websites and gossip mags were buzzing about De Rossi — but they weren't talking about her role on the show. The stories were filled with criticisms of De Rossi's body.
Read: This Girl Has a Strong Message for Body-Shaming Victims: "Wear Whatever the Hell You Want"
OK! Magazine published a slideshow of photos of the actress with the headline, "Portia De Rossi Is Skin And Bones Amid Relationship Trouble Rumors With Ellen DeGeneres," and called her "frightening frail." Radar put up a similar slideshow and claimed, "Portia de Rossi recently created alarm when her midriff-baring top showed her too-skinny frame." Uh, yeah ... we wonder who's actually creating alarm here.
The National Enquirer wrote, "the troubled actress had her ribs protruding from her scary-skinny frame!" and labeled their slideshow of photos of De Rossi, "DISTURBING PHOTOS!"
What's actually pretty disturbing is the level of body shaming going on here — and De Rossi is by no means the only victim of vicious online attacks on her body. Singer Ariana Grande recently spoke out about being criticized for being a "stick," Selena Gomez had to shut down an Instagram troll who told her to work out. Even the non-famous can't go for a run in the park without strangers yelling body-shaming comments at them.
The attacks on De Rossi's body are all the more upsetting because of how open the actress has been about surviving an eating disorder. "Ever since I was 12 years old, I would starve myself daily and then binge after the job was over. And that was just the diet I returned to every single time I needed to lose weight," De Rossi told Good Morning America's Robin Roberts in a 2010 interview, reported ABC News. "From that age I learned that what I looked like was more important than what I thought, what I did and who I was."
In 2010, De Rossi published a memoir about her experiences with anorexia and bulimia, Unbearable Lightness. In 2015, De Rossi spoke about the pressure that Hollywood places on women's bodies. "I was obviously very affected by it ... but obviously [the pressure] still exists, it does exist to a degree and I think it's worse for really young girls," she said on the Australian Today Show, Hello! Magazine reported.