A Man Spent 12 Years Building an Underground Home in Costa Rica — And It's Incredible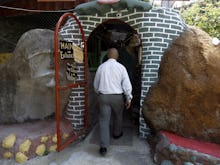 Home is where the heart is, and for Manuel Barrantes, that's apparently 63 feet underground. Barrantes has spent the past 12 years digging into the ground in Costa Rica to build a subterranean home — with awesome results. According to Business Insider, Barrantes built the home for his family to protect them from noise pollution and the effects of climate change. 
Moreover, the house is a tourist attraction in the country, if underground home enthusiasts are so inclined. A Reuters photographer was able to capture snapshots of Barrantes' impressive underground abode, which you can check out below. 
Read more: Norway's Underground Seed Vault Could Save Humanity From Extinction
h/t Business Insider