Luscious Garden Bridge Over London's River Thames Is Closer to Being a Reality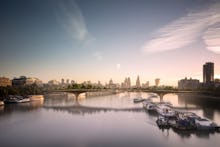 This Eden-like garden bridge designed by English designer Thomas Heatherwick is one step closer to being built over London's River Thames after contracting a builder. 
Construction companies Bouygues Travaux Publics and Cimolai will collaborate to build the bridge starting this summer, Dezeen reported. The bridge must be completed by 2018 to avoid conflict with the construction of a planned sewer. It will connect North and South London.
It'll cost a whopping $253.67 million to build with the help of $166.7 million in private donations and $87 million from the government. Those trying to stop the bridge from being built argue it's too expensive to build and maintain and taxpayers will receive the brunt of it. 
But like, damn...
"With a structure that widens and narrows across its span, the elevated garden will not only be a safe and easy way for London's many commuters and visitors to cross the river, it will also make places along its length for pedestrians to stop and better enjoy the remarkable river setting and unparalleled views of the city," it says on the project's page on Heatherwick's site. "The addition of careful planting with variety in scale, openness and intimacy will create a new kind of public space in the city."
Read more: Artist Martin Molin Built a Rube Goldberg-esque Instrument That Runs on Marbles