White Sox Player Adam LaRoche Is Starting a Conversation About Work-Life Balance for Dads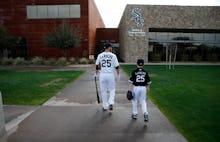 Working moms have long grappled with the question of whether or not they can "have it all," or whether they can balance their careers with their families. But few people question whether working dads have any trouble balancing fatherhood with their professional lives. Major League Baseball's Adam LaRoche, however, has clearly thought about this question a lot. 
The former first baseman and designated hitter for the Chicago White Sox retired this week because he was reportedly told, "he had to limit the time his 14-year-old son, Drake, spent with the team," reports Fox Sports. LaRoche reportedly gave up a $13 million contract so he could spend more time with his family. 
LaRoche's decision was reportedly prompted by a conversation he had with White Sox president Ken Williams, who told him he couldn't bring Drake to the clubhouse every day.
"I don't think he should be here 100% of the time — and he has been here 100%, every day, in the clubhouse," Williams told sports reporter Ken Rosenthal. "We all think his kid is a great young man. I just felt it should not be every day, that's all. You tell me, where in this country can you bring your child to work every day?"
Williams is right that bringing children along to work isn't exactly a conventional practice in the United Sates, save for the occasional childcare emergency. Parents who have attempted to bring their kids to work regularly in recent years have faced pushback from employers and coworkers alike. Yet there's also been a push for more workplaces to provide on-site day care centers for employees, and there's even some evidence to suggest that such programs increase workplace productivity. 
LaRoche's decision to place family over work has been met with support from several of his MLB peers.
As for LaRoche himself, he declared via Twitter that although he has ended his career, he is grateful for having had the opportunity to play baseball (and, presumably, the millions of dollars he's already made from the sport).