Adam Lambert 'American Idol' YouTube Video: Watch Live Debut Of "Welcome to the Show"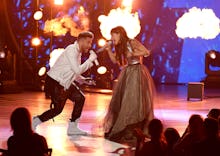 On Thursday night, singer Adam Lambert returned to the American Idol stage to debut his new song "Welcome to the Show," according to Billboard. Accompanying the season eight runner-up onstage was Swedish singer and song co-writer Laleh. Lambert had tweeted out the song that morning.
"Laleh — what an amazing songwriter," Lambert told host Ryan Seacrest, according to Billboard. "She is so talented, and we just wrote a banger and I'm so pumped." The dramatic ballad is Lambert's first release since his 2015 LP The Original High, according to Entertainment Weekly. The album reached No. 3 on the Billboard 200 chart.
Fox will televise Lambert for something else too, as he's set to appear in the upcoming rendition of The Rocky Horror Picture Show as biker Eddie. Starring alongside him will be Orange Is the New Black's Laverne Cox. 
This is American Idol's 15th season, and the night was for the top six (from the original 24 contestants), which saw Tristan McIntosh sent home, bringing the remaining performers down to five. 
Read more: Adam Lambert Is Still Seriously Underrated