Boston Teacher Allegedly Used Racial Slur in Huck Finn Lesson, Students Start #BlackatBLS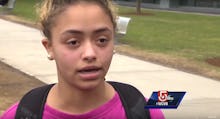 Sometimes truth is stranger than fiction. 
During a lesson on Mark Twain's American-classic novel Adventures of Huckleberry Finn, which contains the word "nigger" 219 times, Destinee Wornum's teacher approached her in class and said, "What's up, my n*gger?", according to the Boston Globe.
"I didn't know what to say," Wornum said. "I was uncomfortable and embarrassed." 
According to the Globe, though the incident happened at Boston Latin School in October, Wornum, 15, did not tell her mother about the incident until January, which prompted her mother, Rosalind Wornum, to meet with the principal. The meeting took place on Wednesday. 
This is one of a string of race-related incidents to happen at the school over the past few years, including an incident in which a student was threatened with a lynching, the Globe reported. All of these incidents were included in a federal complaint regarding possible civil rights violations at the school.
According to Rosalind Wornum, principal Lynn Mooney Teta said she has not met with the teacher who uttered the slur, but called the incident "unacceptable."
Rosalind Wornum told the Globe that her daughter was upset after the incident but didn't know what to do. 
"I honestly didn't know how to handle it because it was like, how do I approach my adult teacher on a situation like this?" Destinee Wornum told the Globe. "What would that mean for my grade? What would it mean for my future at BLS?"
"I was in fear of what could happen because it's like I'm a girl from Dorchester and I ought to be grateful because I go to BLS," she said. "That's the way that they make it seem."
Since these incidents, black students at Boston Latin have started the hashtag #BlackAtBLS to discuss what it's like to be a black student at the school, CBS Boston reported.
Black students who are part of Black Leaders Aspiring for Change and Knowledge, or BLS Black, began to organize following the Huck Finn incident and others like it. Two students, Kylie Webster-Cazeau and Meggie Noel, started #BlackAtBLS, a social media movement railing against ongoing racism at their school, the Globe reported.
Through a YouTube video, BLS Black called on students to share their stories with the hashtag #BlackAtBLS. Webster-Cazeau also shared in the video that the principal has seen tweets about racism at the school, but has done nothing about it.
Destinee Wornum's mother said there hasn't been any disciplinary action regarding her daughter's incident. She said that by not disciplining the teacher, the principal has only allowed more racist acts to occur in the future. 
"In [Teta] allowing all of this to go on gives the white students more reason to act out because they see it's OK," Rosalind Wornum told the Globe. "They see she's not doing anything about it."