East Coast Weekend Weather Forecast Predicts Possible Snowstorm — Grab Your Coats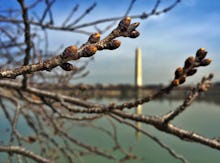 January and February were misleading months of historically warm days, making most people forget the misery that comes in the middle of winter. But don't worry, Mother Nature has another twist in store: a possible Nor'easter that could cover New England and its coatless inhabitants in snow this weekend — which ironically, is also the official beginning of spring, according to NBC News.  
A low pressure system will sweep through the Eastern United States and if the system moves closer to the coast, it may bring heavy snow or rain. It'll probably be at least 4 to 8 inches of snow for those in Eastern New England, while New York City may get 3 to 5 inches of snow, NBC News reported. 
Read more: Climate Change Effects on Weather Are "Potentially Catastrophic," Scientist Says
"You might be wearing short sleeves today, but by the time that cold air settles in, you won't be wearing them Monday," meteorologist Kait Parker told NBC News. 
Thankfully, the system will be out to sea by Monday night, the Weather Channel reported. For most, the returning warm temperatures following the storm will be a relief, but could also cause rapidly melting snow and subsequent flooding, NBC News reported. 
So far, this winter has only seen one major winter monster: Winter Storm Jonas, which brought in a fun 39 inches of snow to Maryland and Virginia.