Gwen Stefani's "Misery" Lyrics and Meaning — Is the Song About Love or Divorce?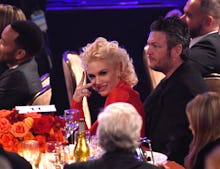 Singer Gwen Stefani's newest album, This Is What the Truth Feels Like, dropped on Friday, and it's already clear that some of the tracks are deeply personal: As the singer herself told NPR on Sunday, "I'm just writing what I feel." The first track off the new album, "Misery," is surprisingly upbeat, given the song's title.
Read more: Gwen Stefani on Her Breakup From Gavin Rossdale: "I Was Literally Dead, Like Panicking"
"Misery" was released as a single before the album came out, and a lyric video was put up on Stefani's official YouTube channel on March 10. The song is bouncy with a snappy intro and a pop star-perfect chorus.
"Misery" appears to be really more about the excitement of a new relationship than the pain of an old one. The first verse begins with the description of a new crush, "I'm doing my best to be sensible/ I'm trying not to care, but," — and then Stefani goes in on one of the oldest metaphors in pop music — "You're like drugs, you're like drugs to me/ I'm so into you totally."
The chorus totes a new love healing the pain of an old one, like a drug erasing all feeling, "So put me out of my misery/ Hurry up, come see me." Maybe not the healthiest model for a new relationship, but you do you, Gwen.
The next verses are seemingly about the whirlwind of falling in love, "Out the door/ I'm thinking things I never thought before/ Like what your love would taste like/ Give me more."
It seems likely enough that "Misery" is referencing Stefani's relationship with country singer and fellow The Voice coach Blake Shelton — whom Stefani began dating after splitting with her husband of 13 years, Gavin Rossdale. Given the song's tone, "Misery" might as well be titled "Rebounds Are Awesome."
Full lyrics to the song are available from Genius.