These 4 Women Are Turning 100 This Summer — And Have Been Friends Since World War I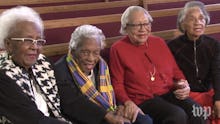 You want to talk real OG's? 
Meet BFFs Leona Barnes, Elizabeth Hammett, Gladys Butler and Bernice Underwood. 
They're all turning 100 years old this summer. And they're happy. 
At least according to a recent interview the friends did with the Washington Post. "God has been good to me. I have no complaints," Underwood told the Washington Post. "I have a good life."
The four women grew up together, playing jacks, jumping rope and learning the two-step in Southwest D.C. 
They met at the end of World War I and have been friends ever since. 
"My birthday wish for each of those ladies individually and for all of them collectively would be that in some way, in some way, they have had an opportunity to experience the fruit of the seed that they've spent 100 years sewing in this community and in this church," Pastor Keith Byrd of Zionist Baptist Church in Northwest D.C., where the women have been members for several decades, told the Post.
One of the things the women said they're most grateful for is living to see a black president, referring to U.S. President Barack Obama. "My mother never thought a black person would ever come to be the president," Underwood told the Post.
"I never thought I would see a black president," Barnes told the Post. "So it was marvelous for me."
The secret to the longevity of their friendship? It's simple: Be nice. 
"The only thing I can say, we just cared for each other, we loved each other and we just were friends all these years," Underwood told the Post. "Never had a cross word with any of them."
h/t Washington Post
Read more: World's Oldest Man, Israel Kristal, Survived Two World Wars and the Holocaust