Amazon May Have to Reveal How It's Paying Employees by Gender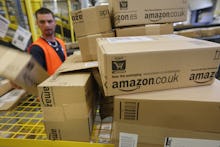 Amazon is getting pressure from an investor to be transparent about gender wage inequity among employees.
Activist investor Arjuna Capital has proposed that Amazon create a report and plan to ensure that all its employees are paid equally, regardless of gender. In turn, Amazon filed a request to the Securities and Exchange Commission to have the proposal excluded from a shareholder vote taking place in June. On Friday, the SEC responded by rejecting Amazon's plea for omission.
Arjuna Capital is on a rampage, pushing major companies like Ebay, Facebook and Amazon to close the gender wage gap among employees. In total the firm has appealed to seven major tech companies in efforts to decrease any potential wage gap. When Arjuna approached Intel and Apple, both companies immediately complied with the request. In February, Intel reported 100% gender pay equity. The following month Apple reached 99.6% gender pay equity, according to Arjuna Capital. 
"It is unfortunate that Amazon is not following the smart, progressive lead of tech giants like Apple and Intel. The inability to attract and retain women is a systemic issue in the tech world.  Paying women a fair wage is essential to driving diversity, which is critical to innovation and performance," Arjuna Capital's head of equity research and shareholder engagement, Natasha Lamb, said in a statement. 
Like many top tech companies, Amazon has invested in diversity initiatives like Amazon Women in Engineering to support women engineers in its ranks. It has also partnered with the Anita Borg Foundation, Girls Who Code and Code.org. Still, the organization is predominately male, with men comprising 61% of global employees. 
While diversity programming is important to achieving a more balanced work place, it's not as concrete an effort as committing to paying men and women equally. Trying to influence tech culture both in the company and the world at large is a lofty and worthwhile goal, but paying men and women the same rates for the same work constitutes measurable change on an issue that at times seems impossible to solve. 
h/t Reuters