Photos of the Shotgun Kurt Cobain Used to Kill Himself Appeared on Seattle Police Website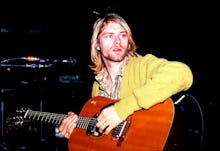 For no apparent reason, the Seattle Police Department posted several photos of the shotgun that musician Kurt Cobain killed himself with more than 20 years ago to its website on Wednesday, the Associated Press reported Friday.
The pictures show cold case Detective Mike Ciesynski holding up the shotgun at four different angles. The pictures were reportedly taken last year and recently added to Cobain's investigative file. It remains unclear why the department rehashed Cobain's suicide case with pictures that some say could be hurtful to the musician's fans, friends and family. Mic left a voice message at the Seattle Police Department on Friday and has yet to receive a response.
"Goof just wanted to be famous why else would you be pictured holding it like that in a shooting position and not an observation or casual pose?" Someone commented on AP's report.
Cobain's body was found April 8, 1994 at age 27. Reports concluded the former Nirvana frontman overdosed on heroin and then shot himself. Ciesynski reportedly re-investigated the case files on the 20th anniversary of Cobain's death in 2014 and found nothing.
Read more: Spotify Is Set to Make a Huge Impact On An Austin, Texas, School Following SXSW
h/t Associated Press