Gwen Stefani "Rare" Lyrics and Meaning — And Possible Shots Fired at Miranda Lambert?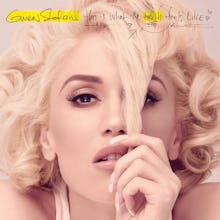 No Doubt frontwoman Gwen Stefani just released This Is What the Truth Feels Like, her third solo album and first since 2006's The Sweet Escape. A lot has changed in those ten years, mainly Stefani's divorce from Bush frontman, Gavin Rossdale. The bulk of TIWTTFL addresses the dissolve of her 13-year marriage, but it also touches upon her new boyfriend and The Voice co-host, Blake Shelton — who recently went through a divorce from country singer Miranda Lambert. Shelton tweeted that one of his favorite songs off of Gwen Stefani's new album is "Rare," and it might have to do with the sentiment of one very specific line in the song.
Read more: Gwen Stefani Has Been Quietly Making One of the Year's Most Empowered Returns to Music
"Rare" is a mid-tempo love ballad, ostensibly about Blake Shelton, with a slightly dark undertone. Stefani sings about how her real life insecurity and her being "broken" was remedied through this relationship. In the opening verses, she establishes the dynamic:
You're a sapphire, you're a rolling stone
The imagery of a visible light in a black hole, as well as her references to rigid objects like "sapphire" and "rolling stone," illustrate the stabilizing impact Shelton has brought into Stefani's life, post-divorce. 
"Rare" being the final track of the album also feels deliberate and thematic, particularly since it follows songs like the opener, "Misery" and the lead single, "Used to Love You."
However, one particular line in the chorus reads like a pointed reference to Shelton's ex-wife, Miranda Lambert:
You're rare
This Is What the Truth Feels Like is out now; stream the song on iTunes or Apple Music.