'The Divergent Series: Allegiant' Reviews: Critics Pan Third 'Divergent' Film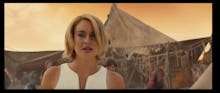 The good news: there's another Divergent movie out in theaters. The bad news: the Divergent movies were never that good, and this is the worst one yet. The Divergent Series: Allegiant has received the worst reviews out of the franchise and has yet to earn favorable reviews, largely because critics are already fatigued with the storyline. 
Unfortunately, a fourth film will be released in 2017, so we'll have to deal with one more before it's all said and done. In the meantime, though, here's what critics are saying about a disappointing — and admittedly boring — Allegiant. 
Read more: Here Are the Biggest Movies Coming Out in Theaters March 2016 You Don't Want to Miss
One aspect of Allegiant that is noticeably improved from its predecessors are the special effects in the film, which pits the leads in a new, tech-centric world run by the mysterious Bureau of Genetic Welfare. Of course, good special effects don't take precedent over an overarching, complicated and boring plot. 
"This penultimate installment in the dour dystopian franchise offers stronger visual effects and more thought-provoking biopunk notions about genetic engineering than the two previous films, but even star Shailene Woodley looks bored," Leah Pickett wrote for the Chicago Reader. 
It's not just been bashed in reviews, either. Popular YouTube channel Screen Junkies has slammed the franchise in their Honest Trailers series, most recently taking aim at Insurgent, the second film in the four-part franchise.
Moreover, like other movie franchises that have dealt with extending sequels when it might not be necessary — the Hobbit trilogy, most recently — Allegiant is hindered in its final act by, essentially, setting itself up for the 2017 film. However, will anybody want to see it at this point? 
"Bad as it is, we are still far from the finish line," Colin Covert wrote for the Minneapolis Star Tribune. "The closing shot is pure marketing, reminding us that the final installment is still a year away. If you feel like there's no point in going through the motions any further, I agree. Apparently the cast and crew do, too." 
For anybody still interested in the film, despite the poor reviews, check out the trailer for Allegiant below.