Even Republican Voters Want GOP Senators to Hold Hearings on Obama's Supreme Court Pick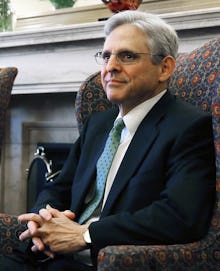 If Republican officials think they're playing to the base by blocking the president's Supreme Court pick, they might want to think again.
Almost half of Republican voters disagree with GOP senators' refusal to hold hearings on President Barack Obama's nomination of Merrick Garland to the high court, a new poll shows.
Read more: Here Are All the Times Republicans Praised Merrick Garland, Obama's Supreme Court Nominee
A Morning Consult survey released Friday found 43% of GOP voters think the Senate Judiciary Panel should hold hearings on Garland, who was nominated on Wednesday to succeed late Justice Antonin Scalia.
About a third, or 34%, opposed hearings, and 23% were on the fence.
More than half of Democratic voters polled, 56%, approved of hearings, as did 42% of independents, Morning Consult said.
Even backers of Ted Cruz's bid for the Republican nomination for president, in which he's framing himself as the most conservative choice, aren't uniformly against hearings. More than a third of Cruz supporters, 37%, are in favor of holding hearings. 
The numbers were higher among supporters of frontrunner Donald Trump (44%) and underdog John Kasich (54%).
That doesn't mean Garland's actual confirmation is in the bag, Morning Consult reported, and members of all parties have their reservations about the D.C. jurist:
The question becomes more typically partisan when it comes to whether Garland, widely considered a centrist and a moderate by both parties, should be confirmed. Only 19% of Republican voters said he should be confirmed as the next Supreme Court justice, compared with 59% of Democrats and 28% of independents.
Morning Consult polled a total of 2,011 registered voters from March 16 to 18. The survey had an error margin of plus or minus 2%.
Correction: March 18, 2016